Toastina Café & Bar greets you with a bright and cheery atmosphere the moment you step into the venue.
Orange walls and wooden panel flooring reflect the warmth of this inviting café, enhanced by the orange bar stools and dark chocolate mosaic counter. Huge oversized lamps hanging from the ceiling further cast a warm, pleasant glow.
Created around the café concept, Toastina offers a delicious range of light refreshments and snack items, such as hot soups, salad, cupcakes and muffins, to name a few. Moreover, the myriad of eclectic colours come together to further tease the eyes and seduce the palate.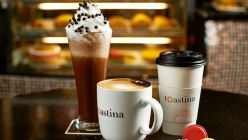 Inside, a glass partition separates the café from the bar, which builds on the cosy feeling of the café but with darker, more sophisticated tones of orange and chocolate. Here, oversized sofas and low coffee tables invite guests to linger, sip and savour, enjoying deep conversation, business discussions or casual chats.
Special of the day
Selected daily by our chef, we have one set dish menu daily from Monday - Friday priced at MYR 18nett per set. Offer valid during lunch hour from 12.00 p.m – 2.30 p.m at Toastina Café & bar.
Take Time Out
Reach Us
Cuisine : Light Fare
Setting : Café and Bar Concept
Dress Code : Casual
Hours
Monday - Saturday : 7.30 a.m - 11.00 p.m
Daily lunch special : 12.00 p.m - 2.00 p.m ( Mon - Fri )
Phone : +603 2717 9352
Website : http://www.toastinacafeandbar.com/
Email :
toastinacafe.bar@sheraton.com
Already a Starwood Preferred Guest?
Check out the benefits that you can enjoy when you dine at Toastina Café & Bar
15% discount for SPG members